Region Panama Realty is a licensed real estate brokerage founded in 2019 as a full-service estate agency. At Region Panama Realty we commit to assisting both buyers and sellers properly navigate the ins and outs of the real estate market in Panama.
Region Panama Realty founder and head broker Carlos Camaño brings his 15+ years of experience in over 300 real estate transactions. Most importantly, we are here to help buyers and sellers achieve their property investment goals in Panama. Furthermore and to provide you with a hassle-free real estate experience, we work with qualified professionals. Certainly, reliable real estate brokers, attorneys, financial and investment professionals as well as banks. Also, contractors, residential and commercial developers, property inspectors, and property managers among others.
About the Founder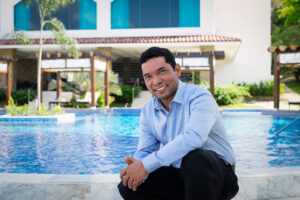 Carlos Camaño was born in 1975 in the town of Chitré, Herrera, though he spent his childhood years in Santiago, Veraguas. In 1992 he was awarded an academic scholarship to study marketing in the United States. Consequently, two years later he obtains an associate degree in Applied Sciences from Kirkwood Community College in Cedar Rapids, Iowa.
Carlos graduates in 2006 from ULACEX Panama with a bachelor's degree in International Business. Following, and for almost a decade, he worked for The Melo Group Real Estate Division. Melo Group is not only one of the largest corporations, but also, one of the largest employers in Panama. From 2012 to 2019, Carlos becomes the Coronado Area Manager for Panama Equity Real Estate. As the manager for this region, Carlos helped hundreds of clients buy, sell, and rent real estate in Panama.
Carlos is an animal lover, nature lover, he loves hiking, outdoor sports and he has a genuine passion for real estate. He and his wife, Lucia, have a 3-year-old daughter named Hanna.
Our Mission
At Region Panama, we value people's time and we thrive to be professional, reliable, honest, and punctual. Also, we serve our clients by providing timely and accurate information to be able to make the right decisions. We will work hard for you.
Our Vision
Every client deserves to have a smile big smile or tears of emotions when buying or selling real estate. Hence, at Region Panama Realty, we want to see smiles and tears of happiness in every transaction we help clients with. A happy client makes us happy.
Testimonials
Andrew From England
Having been the owner of a substantial property portfolio built up over nearly 50 years I have dealt with many agents for buying, selling, leases, valuations, property management, and maintenance, etc and I can honestly say Carlos is the agent I would put the top of the list.
He is also probably one of the few agents who appreciates a property sale is often not a one-time hit, he makes sure the deal is right for you and he looks after things from start to finish and well beyond if needs be. He puts a lot of effort in to try and ensure he will be your choice of agent for the next deal.
Whether you are buying, selling, or need any other property advice, I can highly recommend Carlos to anyone.
If you see a property advertised by another agent and you want a good pair of hands Carlos can usually arrange a split commission with the other agent so having him onside advising and negotiating on your behalf is the best of both worlds.
I think he is a top man, and I'm sure he will succeed in his new venture, for which I give him my best wishes.
Alex and Rob from USA
A Professional you can Trust: We have done many real estate deals in many different locales. Without a doubt, Carlos is one of the best realtors we have worked with over the years. Also, he has deep expertise in the details of purchasing real estate in Panama. Most importantly, Carlos has an in-depth understanding of market values. Moreover, in working with him over the past couple of years, we have come to completely trust his knowledge. Also, he has given us excellent advice on both, opportunities, and what to avoid. Carlos understands the tax implications of different options.
Listens to Clients: Carlos is client-centric and closely listened to what we wanted in buying real estate in Panama. He thoroughly researched properties in Panama that met our criteria. Also, patiently led us through a discovery process to find and buy our perfect full-time property in Coronado.
Goes Above and Beyond: Carlos goes above and beyond to deliver service and value to his clients. For example, in buying our property, Carlos stepped in and completed many steps of the process that should have been done by the seller's realtor. Also, he guided us to an excellent real estate attorney that solved a number of problems that enabled us to successfully buy our property.
We highly recommend Carlos as an excellent, caring, and knowledgeable realtor in Panama to help you in buying the property of your dreams!. We would be happy to provide additional information and a personal reference for him.
Henrik from Sweden
I know Carlos Camano for about 6 years. He has been my realtor in Panama in a couple of transactions. Definitely, I can attest he is 100% trustworthy and a very knowledgeable real estate broker
Christopher from Australia
I have lived in Panama for almost 14 years and have been involved in several real estate transactions. Carlos has been responsible for all my real estate sales and purchases in Panama. He provided me a seamless and trustworthy real estate experience. Most importantly, Carlos has many years of experience in the industry. Also, he was very attentive throughout my property dealings. I have no hesitation in recommending Region Panama for anything real estate in Panama.
Melissa from USA
Carlos was a pleasure to have as our real estate agent in Panama. He never left any questions unanswered and always responded promptly. I would highly recommend Carlos and will use him for our future transactions
Dana and Gary from USA
We were thrilled that Carlos sold our house in a very slow market. Also, he gave us an honest appraisal of the value of the property and did a great job marketing. Carlos was very enthusiastic, went over and above to help us and we enjoyed working with him. Without a doubt, we highly recommend his services as a realtor in Panama.
Souad and Ben from Canada
My husband and I recently bought a condominium in Panama City with the help of Carlos Camaño. It was a real pleasure to have him as our realtor in Panama. We were so impressed with his knowledge of the real estate in Panama and his professionalism. Also, his prompt service, his easiness to deal with, and his friendliness. Moreover, Carlos offered us excellent advice, answered every question we had, and helped us make informed decisions. He was super responsive to all of our questions by replying to our voicemails and emails. Even on weekends and evenings as if we were his only client!. We highly recommend Carlos to anyone seeking a truly professional realtor in Panama!
Billy from USA
I've known Carlos for over 11+ years now. Since I met him in 2008 he has been the consummate Real Estate professional through and through!. Moreover, Carlos's fluency in English and of course his native tongue, Spanish, made working with him so much easier and fluid. Moreover, Carlos's relaxed and casual personality allowed Real Estate matters to be a very low-pressure exercise.
Carlos's willingness to go above and beyond in assisting anyone is another characteristic that sets him apart!. I've worked in the Real Estate industry here in the United States for well over two decades now. I consider Carlos to be one of the best of the best in Real Estate professionals that I've encountered. I would highly recommend Carlos to anyone wanting to invest in real estate in Panama.
Be part of Region Panama
Are you a people's person, have patience, self-discipline, respect for people's time and opinion? let us hear from you. At Region Panama Realty, we are always looking for these 4 main qualities. The rest leave it up to us. We´ll guide you to learn and be successful in the real estate industry.